| | | |
| --- | --- | --- |
| Future | Challenger | Captain |
| Present | Buddhist | Teacher |
| Past | Listener | Investigator |
| | Giving space | Giving direction |
Six coaching attitudes model
Six coaching attitudes
The six coaching attitudes model helps you to reflect on how you shape the relationship with your coachee. It assists you in choosing the most suitable attitude and corresponding interventions at that particular moment.
The combination of the spatial/directional dimension and the focus on the past, present or future forms this model of six coaching attitudes.
A coaching attitude has a mental, physical and emotional component and typical interventions.
'Responsibility', a central theme in coaching, is at the core of the following six coaching attitudes model. The model is a result of my scientific research about responsibility in coaching.
I do not pass judgement on the value of the different attitudes. There is no particular attitude that is inherently better than another. The question is: Is your attitude aligned with the actual needs of the coachee?
The coach/coachee relationship
You'll find the model in my book: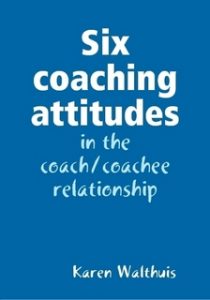 If you choose the most suitable attitude, every coaching conversation becomes a wonderful meeting and an effortless, flowing process. A source of energy for both your coachee and you. And very effective, of course.
You can read more about the coach/coachee relationship in my dutch book:
Nice to meet you!
My name is Karen Walthuis. I'm a psychologist and I live and coach with an open mind and heart.
With a lot of enthusiasm I pass my insights and experiences on to coaches, leaders and other professionals. In my workshops and trainings the six coaching attitudes come to life.
Are you interested in one of my workshops, trainings or lectures?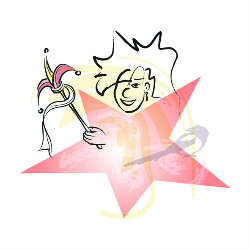 The challenger
A coach with the challenger attitude uses provocative interventions. Surprise, confusion, drama and humour first lead to chaos in the coachee's head. But then comes creativity. 
drama, humor and contradiction
The captain
A coach with the captain attitude wants to help the coachee achieve their personal goals. They are enthusiastic and driven to contribute to the coachee's development. They set the bar high, and not just for themselves.
SMART goals
The buddhist
A coach with the Buddhist attitude is aware like no other that what is happening in the present is especially significant to the coaching. Everything is involved in the coaching: mind, spirit and body. 
reflection questions and awareness
The teacher
The teacher likes to give compliments because they know this makes the coachee feel validated. They offer interesting information, talk about fascinating theories and models, and share their own or others' relevant experiences. 
knowledge and theories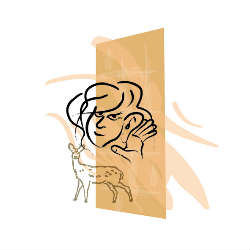 The listener
The listener knows better than anyone how important it is to really listen to somebody. To let the coachee tell their story and to let them finish their sentences.
quiet open attention
The investigator
The coach with the investigator attitude starts at the beginning and asks specific questions about the coachee and their coaching question. The investigator makes a huge effort to get to know their situation, background and personality. 
facts and history
Coaching is great a profession
even more working with the six attitudes